Who are The Sentimentalists?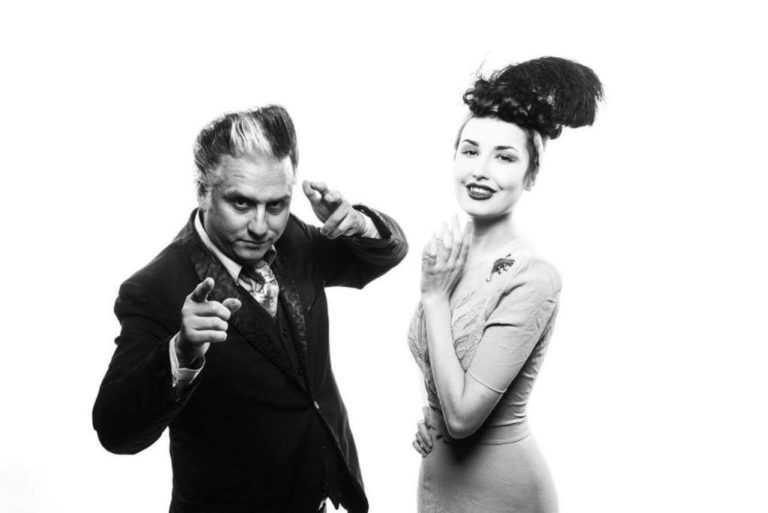 "You two are incredible.
                                                                                                             NO WAY! How did she guess I was thinking of Mohammed Ali?"
                                                                                                                                                                       Michael Wekerle (Dragons Den)
World renown mentalist Mysterion teams with woman mentalist Steffi Kay creating a two person mind reading experience that is truly breathtaking. Steffi brings back classic style mentalism. With her vintage look you will feel transported to the golden age of magic. Mysterion has appeared on stages around the globe and with hundreds of television and media appearances. Together they showcase their special way of communicating, with a touch of humour and most importantly class.
Imagine your thoughts transferred across the room into Steffi's mind with 100 percent accuracy. Your CEO thinks of the name of their favourite film and Mysterion and Steffi are able to divine that movie. Spoons bend with mental powers and drawings are duplicated with telepathy on the spot. For the highlight, The Sentimentalists are able to correctly identify items in the wallets and bags of audience members, so be careful what you think. Corporate events, Private events and functions, media appearances and tradeshows are just a few of the endless places The Sentimentalists shine.
The Sentimentalists are members of The Magic Castle in Hollywood CA, recently toured sold out shows across the US and are the headline act regularly at Dave and Busters, The CNE and Canada's Wonderland. The Sentimentalists currently have a program on Bell TV Fibe one and are in development with a US network for a second.
"That was sick.                                              "You guys are incredibe.                  "That was spectacular"                          "Fabulous, I loved every 
Do it again, do it again!"                               Don't go away."                                                                                                    minute of it."
Flava Flav Music Icon                                Kathy Griffin Comedy Icon             Tony Orlando Music Legend                   Eugene Burger Magic Icon